Summer 2023 Dresher Center Lecturer Fellows
Jessica Floyd
Instructor, Gender, Women's, + Sexuality Studies
Summer 2023 Fellow
Project: "Cabin Boys, Milkmaids, and Rough Seas: The Kaleidoscope of Identity in the Unexpurgated Repertoire of Stan Hugill"
This project focuses on the entire manuscript of erotic song from the repertoire of famed chantey singer Stan Hugill. Each chapter performs an interdisciplinary analysis of a certain selection of songs from the manuscript and presents a nuanced reading of these texts as answering complex questions concerning how men conceptualize and articulate sex in song. This scholarly publication will be the first of its kind that delves deeply into work song and what their narratives represent about men, more generally, and the men who sang them.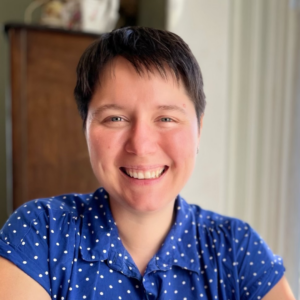 Lindsay Johnson
Senior Lecturer, Music
Summer 2023 Fellow
Project: "'The Most Beautiful Sound': The Queer Nexus of Listening and Voice in Early Modern Convent Life"
Early Modern Italian convents were uniquely queer spaces, bringing women together in homosocial, virginal communities on the borders of the corporeal and spiritual. As nuns wove together the dual, bodily acts of listening and vocalizing, they built queer sonic environments in which to develop relationships with the divine and strengthen homosocial bonds amongst themselves, thus subverting the male church hierarchy. After exploring how gendered expectations within the convent affected nuns' listening and vocalizing, the project examines Lucrezia Orsina Vizzana's 'O magnum mysterium' to illuminate the possibilities of women's agency in queerly inflected performance.
For a list of previous Lecturer and Adjunct Fellows, please visit the Archives page.