Fall 2023 Dresher Center Faculty Research Fellows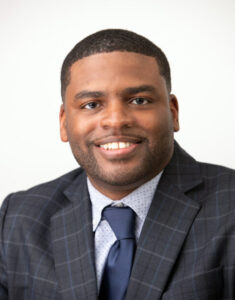 Earl Brooks
Assistant Professor, English
Fall 2023 Residential Faculty Research Fellow
Project: "Black Sound Studies: Resisting the Sonics of White Supremacy"
This project traces the contours of sounds, silences, and listening practices informed by the historical legacy of white supremacy and the strategies of resistance employed by Black communities. This manuscript theorizes the sonics of white supremacy as an organizing mechanism for myriad events and discourses that encompass the racial coding of sounds, including the human voice and music while positing the formal (and quite overdue) recognition of Black Sound Studies as vital disciplinary field at the intersection of sound, history, culture, and politics of the African diaspora.
Christy Chapin
Associate Professor, History
Fall 2023 Residential Faculty Research Fellow
Project: "The Financialized States of America: How Banking and Finance Shaped Capitalism, Governance, and Life in the United States"
This project traces the rise of U.S. financial capitalism between 1900 and 2010. After World War II, the American economy transitioned away from industrial-based production towards service-based production that increasingly revolved around profit-making through financial instruments and investment products. This manuscript demonstrates that federal policies helped grow the financial sector and trigger finance capitalism by altering how bankers conceptualized risk and viewed money. It also explains why finance has come to dominate not only the economy but also social and cultural arrangements, including a consumer culture premised on credit and both racialized and gendered patterns of wealth.
For a list of previous Residential Faculty Research Fellows, please visit the Archives page.