Spotlight on Dresher Center Fall Fellows
The Dresher Center is pleased to have two internal fellows for the Fall 2018 semester:


Residential Faculty Fellow
Rebecca Boehling, Professor of History and Director of Global Studies and Judaic Studies Programs

Project: "Post-WWII Denazification as Transitional Justice"
Conceptualizing denazification as transitional justice requires positing the process as part of a reckoning with the recent past in pursuit of truth and justice, as prerequisites to reconciliation, and ultimately democratization. While the WWII Allies considered denazificaton as a prerequisite to reconciliation, the Germans least complicit with the Nazi regime usually had the most interest in denazification as transitional justice. Contradictions abound when military governments seek to impose democracy. Perhaps the best a foreign occupier can achieve in a country they have fought, invaded and defeated in war, is to set up legal and participatory political structures and regulate socio-economic frameworks in ways to restrict anti-democratic tendencies and promote opportunities for the growth of democracy. The lens of transitional justice will help reveal the limits of occupation and the necessity of removing anti-democratic obstacles to and setting up the framework and structures for civil society.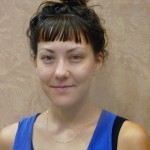 Graduate Student Research Fellow
Aimi Bouillon, M.F.A Candidate, Intermedia + Digital Arts Graduate Program
Project: "Finding Ryukyu"

For her thesis project, Aimi aims to capture the hidden histories of local plant life, memorials, and landscapes in what are sometimes called somaesthetic structures, or affective environments that shape and perpetuate human behavior. Through images of the Okinawan environment, she seeks to discover indigenous Ryukyuan concepts used in maintaining healthy family, community, and societal relations with nature. She will be mining the symbolic capacity of documentary photography to represent known and unknown schematic narratives of Ryukyuan histories.