Baltimore Stories: Narratives and the Life of an American City (Baltimore Stories) was an initiative that sough to establish a model that utilizes humanities scholarship— literature, history, philosophy, communication, art and cultural studies—to produce print and digital materials that help frame and contextualize narratives of race in American cities. The project also shined a spotlight on the ongoing, collaborative work being done in Baltimore neighborhoods by universities and non-profit organizations.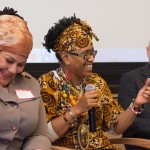 UMBC hosted three interactive public events in Baltimore, as well as a day-long culminating session hosted by the Dresher Center for the Humanities. Over 100 humanities scholars, cultural organizers, educators, young people, and others convened on campus in December 2016 for the "Reflecting on Baltimore Stories" event to discuss their efforts over the past year to help amplify the voices of Baltimore communities and use narrative to move towards change.
The Baltimore Stories project has been made possible in part by a major grant from the National Endowment for the Humanities, and is a collaboration between the University of Maryland; Maryland Humanities; the University of Maryland, Baltimore County; Enoch Pratt Free Library; and the Greater Baltimore Cultural Alliance.
Read more about the event here and in The Baltimore Sun
"Reflecting on Baltimore Stories" event agenda
Learn about UMBC's Baltimore Stories grant