I Heard It Through the Grapevine
Film Screening and Conversation
Thursday, February 23, 2017
5:30 PM - 6:30 PM
Performing Arts & Humanities Building : 132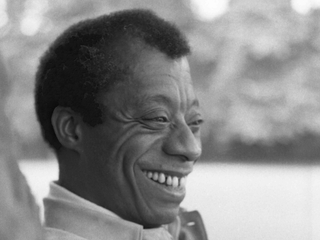 Maurice Wallace, Associate Professor of English and Associate Director of the Carter G. Woodson Institute for African American and African Studies, University of Virginia
Maleda Belilgne, Assistant Professor of Africana Studies and English, UMBC
The spellbinding 1982 documentary, I Heard It Through the Grapevine, chronicles James Baldwin's return to the American South two decades after the passage of the Civil Rights Act. Directed by Dick Fontaine and Pat Hartley, this rare film shadows Baldwin as he revisits the people and places of his past. Baldwin begins in Washington D.C., journeying through Atlanta, Birmingham, New Orleans, and the beaches of St. Augustine in his assessment of the movement's successes and failures. Baldwin reflects on his role as writer and activist, the landscape's evidentiary quality, and the nation's moral obligation to its black populace.
Featuring conversations with Sterling Brown, Amiri Baraka, and Chinua Achebe on the meaning of progress, equality, and freedom, the film showcases Baldwin's uncanny ability to peer into the depths of America's soul. Maurice Wallace and Maleda Belilgne will lead a conversation on the film's historical importance and Baldwin's continuing significance in 2017. 
Bios:   
Maurice Wallace is Associate Professor of English and Associate Director of the Carter G. Woodson Institute for African American and African Studies at the University of Virginia. He is the author of Constructing the Black Masculine: Identity and Ideality in African American Men's Literature and Culture, 1775-1995, a book on the history of black manhood in African American letters, and co-editor of a collection of scholarly articles on early photography and African American identity. Wallace has served on the editorial boards for American Literature and Yale Journal of Criticism. His present research and writing agendas include a monograph on early photography in the making of African American identity on the heels of the US Civil War, and a critical exploration into the sound (vibrato-speech) of Martin Luther King Jr.'s voice. 
Maleda Belilgne is Assistant Professor of Africana Studies and English at UMBC. She is currently at work on a book project that examines spatiality and futurity in black-authored fiction. Belilgne's research interests include African American literature, Anglophone African literature, critical geography, sound studies, and speculative fiction.
Sponsored by the Dresher Center for the Humanities, the Africana Studies Department, and the English Department