Mill Stories: Remembering Sparrows Point Steel Mill
Film screening and conversation
Tuesday, November 15, 2016
7:00 PM - 9:30 PM
Performing Arts & Humanities Building : Rm. 132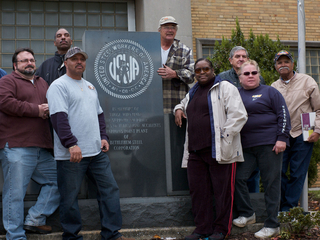 Michelle Stefano, Visiting Assistant Professor, American Studies, UMBC, and Co-Director, Maryland Traditions
Bill Shewbridge, Professor of the Practice, Media & Communication Studies, and Executive Producer, New Media Studio, UMBC
For 125 years, tens of thousands of steelworkers and associated personnel knew Sparrows Point Steel Mill in Baltimore, Maryland not only as a place of employment, but as the center of community life, with special importance, in the company towns of Dundalk and Sparrows Point. Created by the Pennsylvania Steel Company in 1887, and taken over by Bethlehem Steel in 1916, the mill became the world's largest center for producing steel and for shipbuilding. As a key production site during both World Wars, Sparrows Point peaked during the 1960s, and saw a gradual decline in the decades that followed. Nonetheless, this is a story that lives on and, most importantly, needs to be told by those who know it best.
In 2012, Sparrows Point Steel Mill closed forever. Mill Stories: Remembering Sparrows Point Steel Mill presents a collection of personal stories based on over 30 ethnographic interviews collected at the time of the mill's closing. The film seeks to amplify the voices of former workers as a means of helping to safeguard and promote the living heritage of the recently closed mill and its surrounding areas. 
Bio: 
William Shewbridge is Professor of the Practice in the Department of Media and Communication Studies at UMBC. He is Founding Director and Executive Producer of UMBC's New Media Studio, and holds a Doctor of Communication Design (D.C.D. from the University of Baltimore.
Michelle L. Stefano, Ph.D., is Co-Director of Maryland Traditions, the folklife program of the Maryland State Arts Council, as well as a Visiting Assistant Professor in American Studies at UMBC. 
Sponsored by the Dresher Center for the Humanities, the American Studies Department, and the Media and Communication Studies Department