Sounding Global: Radio and Transnational Modernism
Humanities Forum with Jessica Berman
Thursday, May 7 - Canceled
Library and Gallery, Albin O. Kuhn : Gallery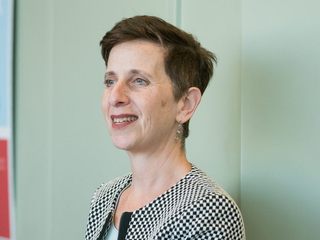 Lipitz Lecture

Jessica Berman, Professor of English and Director of the Dresher Center for the Humanities, UMBC
In this talk, Jessica Berman explores the connections between radio and literary modernism in the Global South during the mid-twentieth century. Radio and modernism grew up together but the two are rarely connected. Berman will show why it is crucial to move beyond the U.K. and the U.S. to explore the powerful intersections of radio and modernism. Turning to the Global South helps us see how radio's many languages, voices, kinds of music, and even noise influence innovations in sound, rhythm, performance of gender, and construction of communal voice in modernism.
A reception will follow the program.
Jessica Berman is Professor of English; Affiliate Professor of Gender, Women's + Sexuality Studies and Language, Literacy, and Culture; and directs the Dresher Center for the Humanities at UMBC. Her teaching and research interests include comparative literature, modernism from a transnational perspective, literature and culture, and feminist and literary theory. She is the author of Modernist Commitments: Ethics, Politics and Transnational Modernism (Columbia University Press, 2011) and Modernist Fiction, Cosmopolitanism and the Politics of Community (Cambridge University Press, 2001); the editor of A Companion to Virginia Woolf (Wiley, 2016) and the reprint edition of Purdah and Polygamy by Iqbalunnisa Hussain (Oxford University Press, 2017), among other publications. She is a past president of the Modernist Studies Association and co-edits the Modernist Latitudes book series at Columbia University Press. Berman is currently at work on a book investigating global radio in relation to transnational modernism.
Sponsored by the College of Arts, Humanities, and Social Sciences; the Dresher Center for the Humanities; the English Department; and the Media and Communication Studies Department.
Photo by Marlayna Demond '11
[image: A woman wearing a black and white blazer stands in front of a green wall]